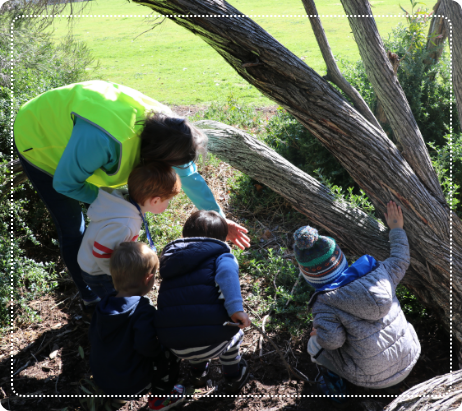 To further support families of the centre, and the wider community, BWFCC have a range of initiatives designed to improve outcomes for children and their families. We want all families that access our centre to feel that they have the arms of Bubup Womindjeka wrapped around them, particularly when we face life's challenges. So we invite anyone to come to us, share your story and allow us to support you in any way we can.
At Bubup Womindjeka we have a pantry that contains non-perishable foods and household items. These are available to all families within the BWFCC community to take, free of charge at any time. If families realise they have no dinner one night, we welcome them to take items from the pantry, if your child/ren are hungry as they leave the service, please take something from the pantry. If at any time you would like to donate food items to the pantry to help support our community in the challenging role of raising children, we would welcome your contributions. The pantry is located in the reception area.
Our Parent Zone Noticeboard is located in the main entrance. It contains pamphlets to support families in understanding a number of issues in relation to children and early childhood challenges, such as behaviour management, developing resilience, dealing with fears and more. These are available for families to take away and read at home.
Our Swap Shop contains a range of children's new and second hand clothing. Families are welcome to take any clothes that interest them. Families will bring in quality second hand items of clothing to add to the Swap Shop from time to time. The Swap Shop is another way we can support the community. Children grow out of their clothes very quickly, and this allows families a little relief in the continual need to buy more clothing. The Swap Shop is located in the reception area, and is welcome to used at any time. If you wish to donate clothing items, please speak to one of our friendly team members in the reception area.
Here at Bubup Womindjeka we recognise that parenting can be filled with challenges and difficult decisions, whilst also being rewarding and enjoyable. We aim to support families in the parenting role, by offering guidance, support and the advice of early childhood and healthcare professionals. Our in-house psychologist along with our parenting seminars cover a range of topics (challenges) that parents of preschoolers face each day.
Parents are invited to be involved with the service in any way they can. If you have expertise, a skill, talent or hobby that you would like to share, please let us know. If you have a particular occupation that you would like to discuss with the children, please also let the staff know, (eg. doctor, nurse, dentist, postman, fireman, new mum, etc.).
The National Quality Framework require services to have a Quality Improvement Plan (QIP). The aim of a QIP is to help providers self-assess their performance in delivering quality education and care, and to plan future improvements.
Here at BWFCC we are engaged with our Quality Improvement Plan and engage with our community to gain feedback to assist us in improving our service to families. Bubup Womindjeka's QIP has recently had a major overhaul. Rather than having the traditional bound document, we have recently dedicated an entire wall to our QIP.
Spread over an entire wall in our reception area, we have broken the plan into each of the 7 National Quality Standards and key areas. Each standard is individually framed addressing particular objectives and outcomes. For a list of each quality area please see below:
Educational program and practice.
Children's health and safety.
Physical environment.
Staffing arrangements.
Relationships with children.
Collaborative partnerships with families and communities.
Leadership and service management.
Located in our foyer, we invite all parents, families, educators and staff to take one of our custom reflection cards and add any recommendations, thoughts or ideas on how we can improve our programs currently available to children and their families. These cards can also be used to communicate aspects of the program that you enjoy, appreciate or would like to share positive feedback on.
Having an interactive and readily accessible Quality Improvement Plan allows us to self-assess BWFCC's performance in delivering a high quality education and care program to greater extent than ever before, while allowing us to plan for future improvements of our family and children's centre.
Without the community's involvement in this process, we cannot meet people's individual needs, therefore, we have provided this space on our website for you to email your feedback to us directly. We will take your comments and transfer these to our QIP on your behalf. You will receive a reply back from our management team in relation to your query, outlining what we plan to do to act on your feedback. Positive feedback is also welcome. Thank you.